If you are looking to visit an Equestrian Mistress in Hertfordshire or to watch equestrian mistress videos, then look no further. I love dressing up as a riding mistress in my jodhpurs, white shirts and riding boots to complete the look.
Please note: As an Equestrian Mistress I offer all types of corporal punishment as well as using riding crops, dressage whips and other whips.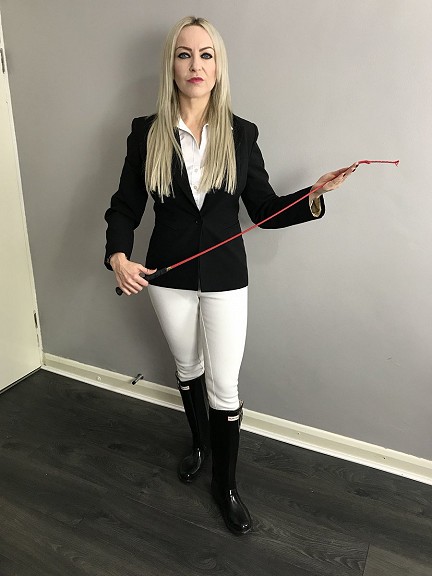 Whipping and cropping bottoms since 2002
I have been using riding crops, dressage whips and other whips since I first started out as a Mistress. Corporal punishment is my first love. Riding crops can be for people of all levels along with dressage whips but more severe whips are for the more experienced or brave. Click on the links below to jump to the section you're interested in:
My crop, dressage whip and whip collection
I have lots of riding crops: short ones, long ones, fetish ones, professional riding ones and various dressage whips, all of which deliver a delicious sting. I also have a large ended riding crop which is particularly good at making bottoms red as it covers such a big surface area. Apart from riding equipment, I have a mean single tail whip, a kangaroo hide whip and dragon tail whip. The single tail whip is one of the most lethal implements I own and is definitely only for the very brave!
Jodhpur fetish
I have various pairs of jodhpurs - classic beige, dark brown with light brown patches, black, white and tan coloured as well. Jodhpurs are not only popular for my corporal punishment scenarios but also for facesitting. People love jodhpurs for their tight-fitting appearance and teamed with either classic riding boots, Hunter wellies or stiletto boots they look very strict indeed.
Equestrian mistress videos
If you want to see me in action, either before coming for a session or simply because you love seeing equestrian mistress videos, then check out some of my many equestrian mistress videos on my member's site. You can also buy individual equestrian mistress clips on my Clips4Sales store. If you watch a video you'll get much more of an idea of what to expect in an equestrian mistress session with me. You can also see the different types of roleplay scenarios I love to act out as well as the different colours of jodhpurs and riding boots I own. If you're too far away from me to receive a cropping or whipping in real-life then this will be the next best thing!
Book your equestrian mistress session
Sessions are normally held in Watford, Hertfordshire but I do also have regular tour dates elsewhere in the UK. Please see my mistress sessions page for details. You can contact me directly by filling in my contact form for an equestrian mistress session. Tell me all about what you want in your equestrian mistress session: whether you want any roleplay, what colour jodhpurs and type of boots you might like to see me in and anything else in your equestrian mistress fantasy.