One of the things I love being most about a dominatrix is how strict I can be with slaves. I absolutely love being a strict mistress! I was born to be bossy and dominant and my approach is perfect for a no-nonsense punishment.
Strict Mistress Scenarios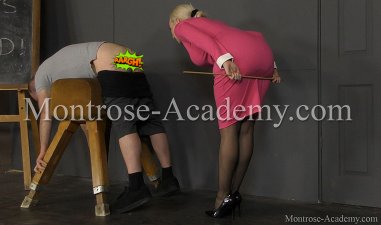 My absolutely favourite Strict Mistress scenario of all time has to be Headmistress or Teacher and school role-play. I always have an answer for any type of brazen comments which ensures you won't get out of whatever you have done, and any further cheek or lying will get you into further trouble. I will make you stand up against the wall whilst waiting punishment and then deliver hard punishments to your bottom. Ensuring your positioning is correct at all times, as a Strict Mistress I need legs straight, bottom out, no wriggling, etc! You will be sternly told to behave properly or else it will get infinitely worse for you. In the photo on the right is from a video shoot for Montrose Academy. I love shooting for them as all their videos are very strict and hard. No messing around! Exactly how I like to be as a Strict Mistress.
Other Strict Mistress scenarios I enjoy are below:
Office Boss and Employee
Mistress and her plaything there for my entertainment
Army Officer
Prison Officer
Aunite/Step Mother
You can see lots of role-play videos of me in action on my member's site or clips4sale store.
Strict Mistress Implements
The cane is of course the best Strict Mistress implement. Walking around the room brandishing a cane and occasionally swishing it through the air is how I like to build anticipation. I am an expert and very hard caner and if you can have marks then that's what you'll definitely get. As a Strict Mistress I may get you to count your strokes out loud and say sorry in-between. You will be taking your punishment and there will be no escape until I am done with you.
Apart from the cane, as a Strict Mistress I am rather partial to over the knee spanking with a rubber soled slipper or wooden hairbrush. These types of punishments are typical of Strict Auntie, Step-Mother or Mother's friend. You will have your trousers pulled down and put across my lap to a bare bottom spanking. I love to do this as a warm up to more harder punishments, as a warm bottom can take harder punishments which is always good in my eyes as a Strict Mistress.
As an alternative, my single tail whip is one of my harshest implements. Ideal for prison officer scenarios with prisoners who need weekly punishment to keep them in order. This single tail whip is only for the very brave and it's lethal even without a Strict Mistress behind it.
Book your Strict Mistress session
If you want to experience a Strict Mistress session the I'd be delighted to listen to your session ideas. I'm available Monday-Saturday (no same day bookings as a deposit has to be paid) and usually reside in Watford, Hertfordshire but also tour the UK to other locations:
So if you want one of the strictest sessions you will ever experience then I am the Mistress for you. We can even start from the moment you enter my premises and keep it completely formal from the off.
---