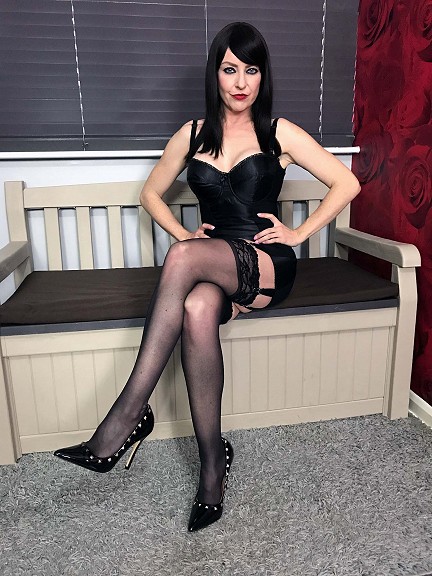 I take regular trips up to dominate Glasgow, twice a year, so take the opportunity while I'm there and book a session with me. I have had vistors to my Glasgow mistress sessions from all over Scotland: Edinburgh, Aberdeen, Perth, Inverness, Dundee and lots of locals too.
The following punishments will be on offer in my Glasgow Dominatrix sessions: Corporal punishment/spanking e.g. Caning, Hand spanking, Paddling - Facesitting/Smothering - Foot worship, Boot worship, Shoe worship, Leg worship, Bottom worship, Strap-on worship (not anal play) - Ballbusting/CBT/Small penis humiliation - Fantasy style wrestling/Scissoring - Trampling - Faceslapping - Nipple torture - Puppy/Pony training - Bondage - Forced feminisation/Maid training with domestic chores - Humiliation (verbal & physical) - Tickle torture - Financial slavery - Fantasy roleplay (with any punishment).
---
My next Glasgow dates are:
3:30pm - 4:30pm
5:30pm - 6:30pm
7:30pm - 8:30pm
11:00am - 12:00pm
1:00pm - 2:00pm
3:00pm - 4:00pm
5:00pm - 6:00pm
7:00pm - 8:00pm
11:00am - 12:00pm
1:00pm - 3:00pm
4:00pm - 6:00pm
---
See my mistress sessions page for full details, and contact me if you want to book me as your Mistress in Glasgow.
Session start times and duration can be flexible, depending on existing bookings.
For one hour bookings with me I require a £100 deposit to secure your session. For Double domme sessions it's £150. A 50% deposit is required for all sessions over one hour - normal deposit rules apply.
---
How to get to my sessions in Glasgow
Full address given after your 50% session deposit has been received.
Location: Glasgow city centre
You can walk from Glasgow Central train station in 15 minutes, or it's a 5 minute taxi journey.
For those driving, there is on-street meter parking directly outside, as well as a carpark nearby.
---
Why I love visiting Glasgow
I have been visiting Glasgow for mistress sessions since 2010. I had wanted to always wanted to see Glasgow, and a friend from there who I used to share a flat with, moved back up. So I decided to advertise for sessions to make my trip more feasible. It went very well and I had a fantastic first trip to Glasgow.
I have since been back countless times, and I now visit 2 times a year. I have made more friends up there, and a recent friend from where I live moved up to Cumbernauld and got married a couple of years ago, so now I have her to visit too as well as holding my sessions. I even sometimes go out with slaves for dinner, especially as there are some great restaurants in Glasgow. The Two Fat Ladies being a particular favourite, with their dessert platter called the "Two fats grand dessert" consisting of about 7 different desserts... amazing! Other fantastic restaurants include Ubiquitous Chip, The Hanoi Bike Shop, Alla Turka, Nanakusa & The Red Onion
---
Where you can find the best mistress in Glasgow
I have been a dominatrix since 2002 so I have lots of experience and love my job. Since I started visting in 2010 I now have many regular clients up in Glasgow. One of the reasons I am so popular is because I love facesitting. I am one of the best facesitter's in the UK so take your opportunity to see me in Glasgow while you can. I smother victims with my bottom and there's no escape. I have worked for many other websites doing what I love best so you may have seen me in a few clips. Many slaves have told me it's the best facesitting session they have ever had. I have the perfect bottom for squashing your face and I love turning you into my comfortable seat. You can read my mistress session reviews for lots reviews on facesitting as well as other fetishes.
I am also very mean with a cane and would love to give your bottom a good caning! I love being a school Headmistress - role-play is a particular favourite of mine. I also love all aspects of corporal punishment. I have lots of implements, some of my other favourites are slippers, hairbrushes and straps. You can read a review below:
"To be honest, I was a bit blown away by how you managed to take me to the "zone"...it was very authentic and you really were magnificent - as I said earlier much better than I had expected. Progress report on the state of my poor bottom - deeply bruised (purplish/orange) and sore but nice ;-).... 10 out 10 for accuracy - the brusing and pain is in two cricket ball sized patches right in the centre of the most padded part of my bottom ;-) Similarly my hands ache and are quite red with slight bruising but again all in two patches in the middles of my palms - nowhere pain near the wrist and more importantly no pain in the fingers - you did an expert job! Better than I anticipated and better than anyone I have previously seen in Glasgow, but then I should never have doubted you would deliver." Roger, Glasgow
I have worked for lots of diferent mistress and dominatrix sites over the years, the biggest being The English Mansion. I also film our sessions in Glasgow if slaves are interested in owning their mistress experience forever. I do this for free if you don't mind me posting the clips on my Amateur C4S site. Otherwise there is a cost of £50 to do this. I can also take photographs and have a remote control for my mobile phone to get full shots (please ask beforehand as I don't always have this with me).
---
Interesting fact about Glasgow
The name Glasgow comes from the older Cumbric glas cau or a Middle Gaelic cognate, which would have meant green basin or green valley. The settlement probably had an earlier Cumbric name, Cathures; the modern name appears for the first time in the Gaelic period (1116), as Glasgu. So it was once a green valley. There are lots of hills in and around Glasgow so that doesn't surprise me!