If you are looking to visit a Strap & Tawse Mistress in Hertfordshire or to watch strapping or tawsing videos, then look no further. I have a large collection of straps and tawses at my disposal and know how to use them very well.
Please note: As a Strap & Tawse Mistress I offer all types of corporal punishment as well as these.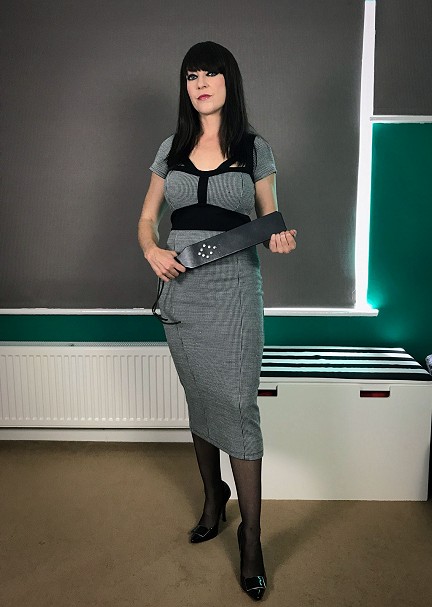 Strapping & Tawsing
I have been using straps and tawses since I first started out as a mistress, as corporal punishment is my first love. Straps and tawses are good for people of all levels and can be done harshly or less severe. So if you want to give it a go or even if you just want to watch some strapping or tawsing videos, read on.
Click on the links below to jump to the section you're interested in:
Femdom tawsing
For pupils in Scotland right up until the 1980s, a particular leather product was the source of fear and dread - the Lochgelly Tawse. The tawse, a Scots word meaning thongs of a whip, was an essential part of the teacher's trade. It was the Scottish school's corporal punishment weapon of choice against unruly students and enforced a strict atmosphere in classrooms. Today, I use the tawse to punish naughty bottoms and I also frequently like to do hand tawsing as well. The tawse is a very stingy implement but has the advantage of not leaving long lasting marks on bottoms, so is an ideal choice for those who can't be marked. Hand tawsing makes hands go very red and naughty boys have been known to do a little "pain dance" after impact of the tawse on their hands. Hands are particularly sensitive and not used to such harsh treatment! However this redness fades quite quickly to leave the memory of the pain. With my tawses, I especially love to role play being a Headmistress in my sessions but they can be used in any role play scenario. I have a variety of different tawses, some with handles, some made of light/medium leather and one that is very thick. My favoured tawse is of medium thickness and is a tan coloured leather two-tailed tawse. It's really smooth and delivers a solid hit, time after time.
Femdom strapping
I have a lot of leather straps. Some that are very thick and harsh indeed which really leave an impact on a bottom. I also have some softer edge straps and even a lovely 4 tailed strap which makes a fantastic noise when it lands on a naughty bottom. Straps are similar to tawses in that they don't generally leave long lasting marks. I have my rigid leather prison straps too which are the meanest of all my thick leather straps, especially the perforated ones for an even closer impact. I love securing a prisoner on my whipping bench and dishing out a prison strap spanking for their imagined naughty behaviour. The prison strap was originally used in the prisons of North America but is now a popular choice in the femdom scene.
Strap & tawse mistress videos
If you want to see me in action, either before coming for a session or simply because you love seeing British strapping & tawsing mistress videos, then check out some of my many strapping or tawsing mistress videos on my member's site. You can also buy individual strapping or tawsing mistress clips on my Clips4Sales store. If you watch a video you'll get much more of an idea of what to expect in a strap or tawse mistress session with me. You can also see the different types of roleplay scenarios I love to act out as well as the different outfits I own. If you're too far away from me to receive a good hard strapping on your bottom or stinging tawsing on your hands in real-life then this will be the next best thing!
Book your strap or tawse mistress session
Sessions are normally held in Watford, Hertfordshire but I do also have regular tour dates elsewhere in the UK. Please see my mistress sessions page for details. You can contact me directly by filling in my contact form for a strap or tawse mistress session. Tell me all about what you want in your strap or tawse mistress session: whether you want any roleplay, any particular outfits you might like to see me in and anything else in your strap or tawse mistress fantasy.