If you are looking to visit a Humiliation Mistress in Hertfordshire then look no further. I adore humiliating slaves. Whether it be physical or verbal humiliation or even public humiliation; I love finding ways to crush and degrade you.
Please note: As a Humiliation Mistress I offer all types of punishments, see my mistress sessions page for my full list.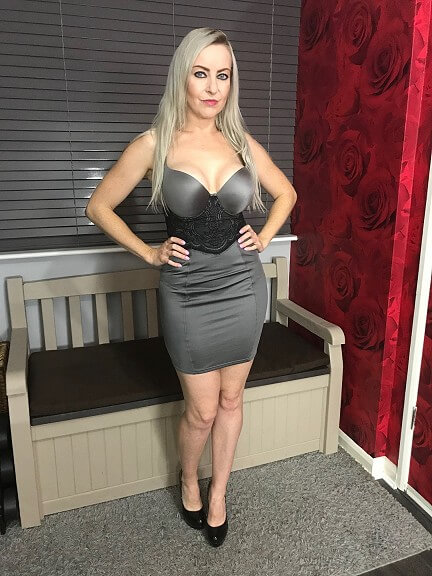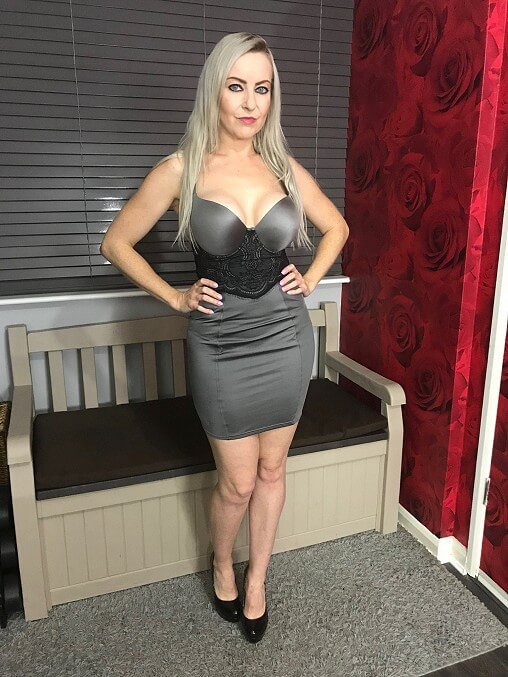 Femdom humiliation
Does the thought of being humiliated and demeaned turn you on? If so, you're in the right place as I love to do things to my slaves to make them squirm. I enjoy being a humiliatrix and if you want to be my humiliation slave, then read on if you want to give it a go.
Click on the links below to jump to the section you're interested in:
Physical slave humiliation
Humiliation is a form of psychological pain. Pain and pleasure register in or around the same part of the brain Therefore, for some people, certain types of pain will induce pleasure. Humiliation is an intriguing fetish as it is very different for everyone. It is very subjective as what embarasses one person, may not bother another in the slightest, so I always need to know what kind of humiliating things you enjoy. Exampes of things I have done in my humiliation mistress sessions (in no particular order) are: forced feminisation (dressing you in female clothing), training you to be my sissy maid and doing cleaning tasks, making you into my pet puppy to train, turning you into my pony to carry me around my room, doing exercises, teaching you slave positions, small penis humiliation, strap-on worship, making you into my furniture, age play (treating you like a 5 year old child), eating things off the floor, drinking from a bowl on the floor, making you dance for me, worshipping my shoes or boots, writing on your body in temporary or permanent marker pen, spitting on you, gagging you, bondage, face slapping, kicking, punching, hair pulling, cfnm (clothed female naked male) and wearing a sign around your neck. Scenarios can be numerous too as you could simply be my little toy for me to play with or a more role-play based humiliation mistress session such as being your boss at work and if you don't do what I say you will lose your job.
Verbal humiliation
I can use a variety of different terms to verbally humiliate my slaves. During animal play, you could be my pet, bitch, or dog. The word pet may also be used outside of animal play, along with slave or the child terms, boy or girl. "Boys" or "girls" may also be scolded, as children often are. I can pick on your and call you useless and a waste of space along with swearing if that's your thing. I can upgrade my verbal humiliation to call you more offensive names such as slut or whore also. If verbal humiliation about your appearance or personality is your thing then I can call you fat, ugly, stupid, or use ethnic slurs. I can poke fun at parts of your body or your behaviours, especially your precious manhood. Sometimes the verbal humiliation is reversed, and as my slave you will be required to speak. You may have to repeat things I tell you to say or be forced to agree with humiliating things to say to you about your personality or behaviour.
Public humiliation
I have been known to go outside and carry out public humiliation but this is only for the very brave. I do not accept slaves wearing masks or hoods, what is the point? You are there to be publicly humiliated and this is how it is done. Public humiliation can be in mild or more extreme versions. Any of the above physical and verbal humiliations can be carried out whilst out in public. More extreme versions involve you for example being put in a collar and lead and led around town and being handcuffed to a lampost whilst I go and get a coffee. Then you could be my footrest whilst I sit on a public bench and drink my coffee. Milder versions could involve coming on a shopping trip with me and asking if you can try on ladies clothing and making you choose me underwear and buying sanitary products. Again, this is all subjective and depends on you as a person and what you would find for public humiliation a thrill and what would turn you on.
Book your humiliation mistress session
Sessions are normally held in Watford, Hertfordshire but I do also have regular tour dates elsewhere in the UK. Please see my mistress sessions page for details. You can contact me directly by filling in my contact form for a humiliation mistress session. Tell me all about what you want in your humiliation mistress session: whether you want any roleplay, any particular outfits you might like to see me in and anything else in your humiliation mistress fantasy.