If you are looking to visit a Forced Feminisation Mistress in Hertfordshire then look no further. I love forcing my male slaves into female slaves, whether it be minor or major clothing changes or full transformations including make-up and wigs.
Please note: As a Forced Feminisation Mistress I offer all types of punishments, see my mistress sessions page for my full list.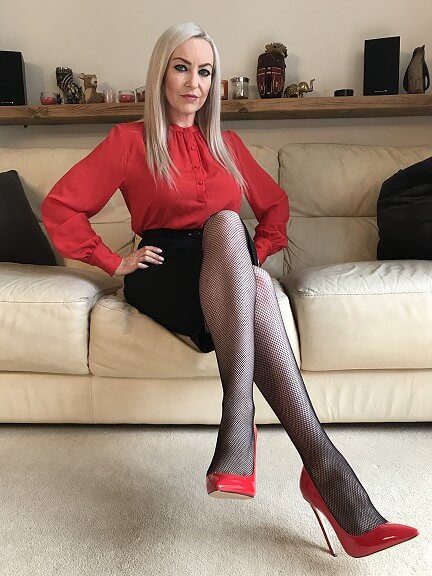 Forced feminisation training
Who wants a male slave when I can have a pretty female slave instead? If you've fantasied about being forced to turn into a woman and/or being a little sissy maid who has to do everything to please Mistress, then read on if you want to give it a go.
Click on the links below to jump to the section you're interested in:
Forced into feminisation
Also known as forced feminzation (due to the American spelling) or sissification, it is the switching of gender role of a male submissive by a Mistress. There are many levels to which this can be carried out. I have had men who simply want to be forced into ladies panties, or into a full ladies outfit or to be completly transformed with make-up, nails and a wig. Of course parts of this can be mixed up so if you just wanted to wear a wig, knickers and stockings or to just wear a female outfit like a maid's costume, all combinations are possible. The forced feminisation process can be helped by wearing a chastity device to keep the one thing that keeps you masculine locked away (I can provide if you don't have one). You are welcome to bring your own clothing or you can let me know what female size you are so I can have something suitable for you. There are many roleplays that can be done around why this may happen, maybe I'm your boss at work who has decided she only wants female on her staff so you have the choice, either lose your job or be forced into feminisation. Maybe I'm Mistress who has gotten bored at looking at your drab man wear and wants a more glamourous sissy maid to do my bidding. Or maybe I'm the schoolgirl bully who makes you forces you into feminisation as you're a pathetic nerdy wimp boy. The possibilities are endless. Begging and pleading to stop the forced feminisation may be part of your fantasy too and I can always take photos and threaten you with blackmail if you don't do what I want. At the end of the day, I love humiliating and degrading men into being forced into feminisation. You can then also opt for sissy maid training as well...
Sissy maid training
Once you are dressed up you could then turn into my sissy maid for training. This is where I'll train you to act in a feminine way and be my little sissy. Whatever I want you to do you need to behave properly or you'll get punished - maybe with OTK spanking or caning or whatever I decide. I may get you to do domestic chores like cleaning my session room - sometimes in not a very practical fashion, like using a dustpan and brush with your hands tied in front or using a mini feather duster in your mouth whilst your hands are tied behind your back. You could also be made to make me tea or lunch or serve me drinks as my sissy maid. For my amusement, I may get you to adopt female mannerisms and postures as part of your sissy maid training such as sitting, walking, talking, dancing or practising your courtesy (a traditional gesture of greeting, in which a lady bends her knees while bowing her head). I also have a little bell I can ring and if I do, I expect you to come down and kneel in front of me and ask me what I want immediately. If I have tired feet you may well have to give me a foot massage and worship my feet with kisses or before that worship my shoes in a similar fashion. Then I may decide I may want to rent you out to suck cock and make some money off you, so I'll get you to worship my strap-on and practice sucking and licking my strap-on in your sissy maid training. I expect all sissy's to be very polite and appeasing or else they will be in trouble!
Book your forced feminisation mistress session
Sessions are normally held in Watford, Hertfordshire but I do also have regular tour dates elsewhere in the UK. Please see my mistress sessions page for details. You can contact me directly by filling in my contact form for a forced feminisation mistress session. Tell me all about what you want in your sissy maid training or forced feminisation mistress session: whether you want any roleplay, any particular outfits you might like to see me in and anything else in your forced feminisation mistress fantasy.