If you are looking to visit a Femdom Wrestling Mistress in Hertfordshire or to watch femdom wrestling mistress videos, then look no further. I have been involved in domination wrestling for a number of years now and love to make men submit under my body.
Please note: As a Femdom Wrestling Mistress I offer all types of punishments, see my mistress sessions page for my full list.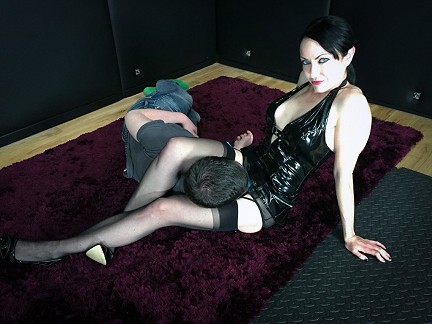 Female domination wrestling
I am well trained and enjoy strictly non-competitive fantasy style wrestling, and you will no doubt recognise me from various wrestling websites such as lethalbitches.com and darkstargirls.com. So if you want to give it a go or even if you just want to watch some femdom wrestling mistress videos, read on.
Click on the links below to jump to the section you're interested in:
Wrestling domination
I am proficient in many varied and effective holds that will force you into submission. I love to hear slave cry out in pain as I bend their body into ways it shouldn't and make you submit to me. My legs are particularly powerful, and there's no escape for those trapped in a scissor hold between them. Arm bars, Boston crabs, camel clutch (with or without fish hook) and grapevines are some of my other favourite moves, along with arm headlocks and scissoring your chest. I also particularly love holding victims down with school girl pins, before facesitting their pitiful faces to thoroughly smother them with my ample bottom. I have some special flooring for domination wrestling sessions to cushion any impact but for obvious reasons only come along if you're fit & healthy and are of a suitable size to wrestle me (send details of height and weight on application). Please note I do not do naked wrestling (underwear is the minimum clothing I will accept you wearing).
Wrestling fetish
There are lots of aspects to wrestling fetish. Do you like the feeling of being dominated by a lady and held down in pins and moves so you can't escape? Or maybe you're into foot domination wrestling? I can put you in holds and force my feet onto your face making you smell them or even stuff them in your mouth! Then there's the humiliation aspect - what better way to be laughed at whilst you try and squirm and wriggle in holds you just can't escape, making you feel utterly pathetic. If you want to feel completely overpowered by female domination wrestling, you can have two ladies to join forces to pulverise you in a tag team and wrestle you into submission. Mistress Chloe is particularly good as my teammate if this is your wrestling fetish. Then, of course, there is sthenolagnia - otherwise known as sexual arousal from displaying strength or muscles. You'll be able to touch my legs and arms and see just how strong I am. Finally, maybe it's about the type of clothing I will wear - being trapped in shiny lycra or tights or even a fantasy outfit like Wonder Woman or a police uniform.
Femdom wrestling mistress videos
If you want to see me in action, either before coming for a session or simply because you love seeing British femdom wrestling mistress videos, then check out some femdom wrestling mistress videos on my Amateur Clips4Sale stores or on the websites listed above. If you watch a video you'll get much more of an idea of what to expect in a femdom wrestling mistress session with me. You can also see the different types of roleplay scenarios I love to act out as well as the different outfits I own. If you're too far away from me to be crushed by my powerful thighs or be flipped over and suspended in mid-air real-life then this will be the next best thing!
Book your femdom wrestling mistress session
Sessions are normally held in Watford, Hertfordshire but I do also have regular tour dates elsewhere in the UK. Please see my mistress sessions page for details. You can contact me directly by filling in my contact form for a femdom wrestling mistress session. Tell me all about what you want in your femdom wrestling mistress session: whether you want any roleplay, any particular outfits you might like to see me in and anything else in your femdom wrestling mistress fantasy.