If you are looking to visit a Facesitting Mistress in Hertfordshire or to watch facesitting mistress videos, then look no further. I love facesitting; I could squash men all day long with my lovely round bottom so they can't breathe.
Please note: As a Facesitting Mistress I offer all types of punishments, see my mistress sessions page for my full list.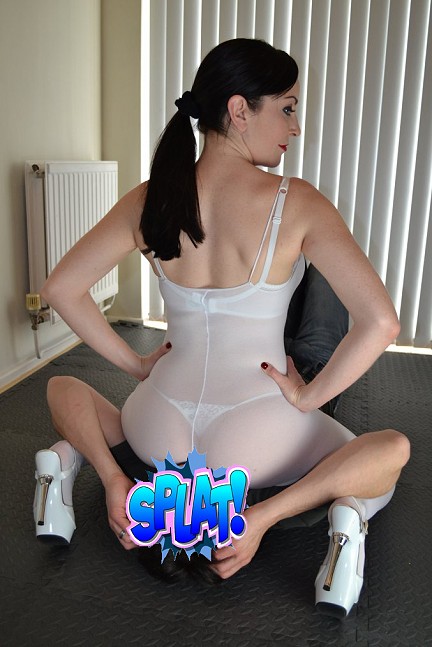 Facesitting fun
I have been sitting on faces in the UK for some time now and facesitting is my favourite non-spanking related activity. Using men as my human furniture to make comfortable seats for my bottom is great fun. So if you want to give it a go or even if you just want to watch some facesitting videos, read on.
Click on the links below to jump to the section you're interested in:
Facesitting positions
I am very well known for being one of the top facesitters in the UK. I have worked for many sites around the web like Facesitting Bitches so if you recognise me, you may have seen me on some websites. I know exactly what I'm doing and many people often say they have had other facesitting sessions before but my session was totally different. Proper facesitting! I am very experienced in all aspects of facesitting, such as forward facesitting, reverse facesitting & side facesitting. I sometimes like to cross my legs whilst sat upon a face, or even lean back and lift my legs up so that my full weight is forced down onto my sub. Other times if I think slaves can take it I will bring both my legs up in a reverse position onto their body and turn them into a sofa. These positions are more for those into heavy facesitting and who can breathe for a long time under my lovely bottom so start practising now! The minimum time you need to be able to breathe for with me sat on your face is 30 seconds. Most people get to a minute if pushed and the record is 4 minutes! Very impressive. There are some more unusual positions you can try too - one I all the pretzel position - you will have to find out why! Apart from different positions, they are facesitting games, like the "One breath game" or "Lift up game" we can play. Ask me for more details.
Facesitting equipment
I have a smotherbox for those who want to experience being completely trapped and squashed by my bottom. The wooden box sits on the floor and the lid lifts open. You then place your head in the semicircle and I close the lid so your face is displayed. I then smother you with my bottom and there's certainly no escape. Forwards and reverse positions can be done in the box, and even sideways if you want to try. I have a face to bottom harness which you can see a photo of on Twitter if you click on the link just now. It traps your head in place into my bottom so when I stand up you can just about breathe, but when I bend over all chances of breathing just a little are totally wiped out extremely quickly. I usually put people in this for a max of 15 minutes as it's very hard going on your neck and very hard to breathe. I can also lay out cushioned flooring for my facesitting sessions in Watford, Hertfordshire as seen in some of my photos. This results in a more comfortable and relaxing squashing if that is your preference and are not into pain in any way. Unfortunately, I am unable to take this flooring with me for touring sessions. Otherwise, I have hardwood laminate flooring which is really quite mean, especially with full-weight facesitting.
Facesitting mistress videos
If you want to see me in action, either before coming for a session or simply because you love seeing British facesitting mistress videos, then check out some of my many facesitting mistress videos on my member's site. You can also buy individual facesitting mistress clips on my Clips4Sales store. If you watch a video you'll get much more of an idea of what to expect in a facesitting mistress session with me. You can also see the different types of roleplay scenarios I love to act out as well as the different outfits I own. If you're too far away from me to be used as my comfy seat or sofa in real-life then this will be the next best thing!
Book your facesitting mistress session
Sessions are normally held in Watford, Hertfordshire but I do also have regular tour dates elsewhere in the UK. Please see my mistress sessions page for details. You can contact me directly by filling in my contact form for a facesitting mistress session. Tell me all about what you want in your facesitting mistress session: whether you want any roleplay, any particular outfits and underwear (full bottom or thong) you might like to see me in and anything else in your facesitting mistress fantasy. Please note I do not do sessions nude.