If you are looking to visit a Bottom Worship Mistress in Hertfordshire or to watch bottom worship videos, then look no further. Bottom worship is a relaxing way, if a slave is good, to please your mistress and of course, you get to be near her wonderful bottom.
Please note: As a Bottom Worship Mistress I offer all types of punishments, see my mistress sessions page for my full list.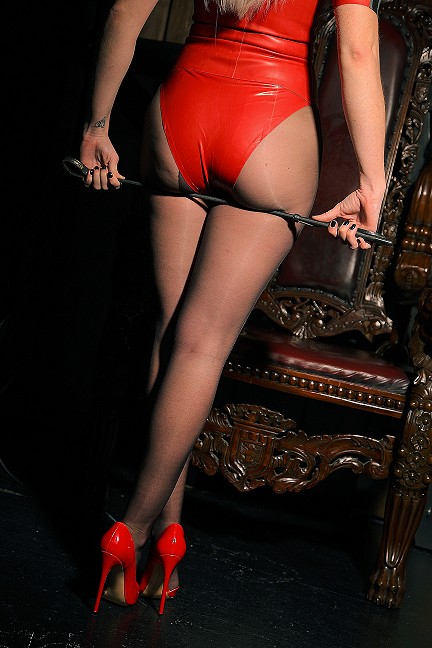 Booty worship
I have had lucky slaves all around the country and abroad that have worshipped my lovely big round bottom. I love the relaxing experience of having my booty worshipped whilst making sure slaves are in their rightful place doing what they're here for, to please Mistress. So if you want to give it a go or even if you just want to watch some bottom worship videos, read on.
Click on the links below to jump to the section you're interested in:
Butt worship
As American's like to call this fetish either "Butt worship" or "Ass Worship" in England we prefer to call it "Bottom Worship". Basically, butt worship is for those with an ass fetish. Bottom worship can be performed in a number of ways. The slave can kiss, lick or massage mistress' bottom with their lips and tongue. Mistress may allow hand touching if she feels you are worthy. You can be put in various hold like a reverse schoolgirl pin (femdom wrestling hold) where you are held down with my bottom in your face for you to worship. Also, you can simply place your face between my two bottom cheeks and rest it there, whilst you are surrounded by my amazing bottom and bask in its glory. This can be expanded on though, as there have been some different positions created for this type of bottom worship which I will explain below. Let me know if you want to try any of these to get close to my bottom in session.
The Sandwich: First of all, I am facedown on the floor with my bottom in the air. A slave will proceed to bury his face into my booty whilst also laying down. (This is a good option for double dommes sessions as the second lady can put you harder into my bottom.)
Against the Wall: A slave sits up against a wall and I back my bottom into your face, making sure my bottom is completely smothering your face.
The Crab: A slave lies on the floor, facing upwards. I then bend backwards, so that my feet and hands are on the ground, but my stomach is facing the ceiling. I then lower my bottom onto your face and smothering you with it.
The Prayer: A slave gets down on his knees and inserts his face into my bottom. (This is the most common type I do).
Big booty worship
I used to not be a fan of my big bum as it was never a fashionable thing for years, but then I discovered facesitting and bottom worship before this fashion phenomenon regarding big bootys happened and found something my bottom was made for! My bottom was always very J-Lo like, it always has overhang, is squishy and round and big! So after a few sessions, I realised my bottom had found it's calling. I love having your face pushed into my luscious bottom, enjoying my big booty cheeks pressing against your face. For a session, you can suggest what you'd like me to wear on my bottom, as some people it's not about a thong or pair of knickers covering my lovely bottom. Some people like latex leggings worship and to see my beautiful big bottom covered in latex. Or maybe it's my booty in tights or pantyhose which may be your thing. Please note I do not do naked bottom worship sessions (underwear is the minimum clothing I will wear).
Bottom worship mistress videos
If you want to see me in action, either before coming for a session or simply because you love seeing British bottom worship mistress videos, then check out some of my bottom worship mistress videos on my Real Sessions Filmed Clips4sale store. You can also watch lots of my facesitting videos with my bottom in every single one. If you watch a video you'll get much more of an idea of what to expect in a booty worship mistress session with me. You can also see the different types of roleplay scenarios I love to act out as well as the different outfits I own. If you're too far away from me to kiss my bottom or bury your face in between my bottom cheeks then this will be the next best thing!
Book your bottom worship mistress session
Sessions are normally held in Watford, Hertfordshire but I do also have regular tour dates elsewhere in the UK. Please see my mistress sessions page for details. You can contact me directly by filling in my contact form for a bottom worship mistress session. Tell me all about what you want in your bottom worship mistress session: whether you want any roleplay, any particular outfits you might like to see me in and anything else in your booty worship mistress fantasy.