If you are looking to visit a Boot Worship Mistress in Hertfordshire then look no further. Boot worship is a perfect match for me and a slave as I have many gorgeous pairs of boots waiting for you to worship.
Please note: As a Boot Worship Mistress I offer all types of punishments, see my mistress sessions page for my full list.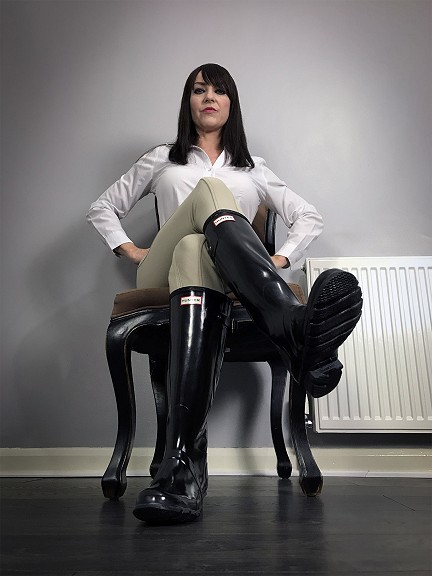 Worship my boots!
I love boot fetish activities and in a session with my boots, you can worship them or they can dominate you. So if you want to give it a go, read on.
Click on the links below to jump to the section you're interested in:
Boot fetish
Whether you like worshipping leather boots, shiny patent boot, PVC boots, rubber boot, platform boots, stiletto heel boots, ankle boots, knee high boots, thigh high boots, riding boots or Hunter wellies, I have lots of choice for all your boot fetish desires. I like to make sure my boots are thoroughly covered in kisses before you properly clean every inch with your tongue, paying particular attention to the sole of my boot and making sure any dirt is removed. If you are good, I will let you put my heels in your mouth and suck on them until they are glistening with your spit. If you don't meet my expectations, I can force you to suck one heel, whilst the other, bearing my weight crushes down on you and uses you as a boot rest. I am a UK size 4 (Euro 37/USA 6) size feet so my dainty feet with my amazing boots look outstanding when you are beneath me. I can also trample on you in my boots - all over your body - stomping on your cock and balls or digging my heels in or soles onto you, feeling my full weight crush your chest, back or head. Whatever your particular boot fetish is, I can accomodate it.
Muddy boots worship
I can go out and prepare my boots ready for a session with you by walking outside and making sure they are covered in mud for muddy boots worship. Your only use will be as my muddy boot worship slave will be to scrape off the dirt off with your tongue then swallow the filth from the my boots. I will want to see you have a black tongue from licking my boots clean and they must be in pristine condition afterwards. Your body can be used as a carpet with one boot resting on your chest whilst cleaning the other boot with your mouth. My riding boots are particularly good for muddy boots worship as they are known for getting dirty out in the stables and you can be my stable boy whose job it is to lick clean all the boots in the riding centre.
Boot fetish videos
If you want to see me in action, either before coming for a session or simply because you love seeing British boot fetish mistress videos, then check out some boot fetish mistress clips on my Amateur Clips4Sales store. If you watch a video you'll get much more of an idea of what to expect in a boot worship mistress session with me. You can also see the different types of roleplay scenarios I love to act out as well as the different outfits I own. If you're too far away from me to be lick my gorgeous Hunter boots or be trampled beneath them in real-life then this will be the next best thing!
Book your boot worship mistress session
Sessions are normally held in Watford, Hertfordshire but I do also have regular tour dates elsewhere in the UK. Please see my mistress sessions page for details. You can contact me directly by filling in my contact form for a boot worship mistress session. Tell me all about what you want in your boot worship mistress session: whether you want any roleplay, any particular outfits you might like to see me in and anything else in your boot fetish mistress fantasy.