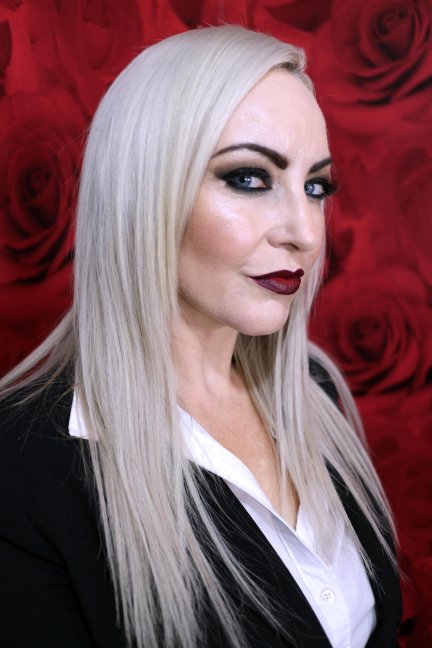 On Saturday I had a shoot for "Trampling for fun" website and I decided to get in Roxy T Make-Up Artist to give me a great look for the day. She's also a good friend of mine who is very down to earth and open-minded - what every dominatrix needs in a friend!
My new make-up
Roxy asked me what I wanted and I said something different to my usual look which she'd seen photos of. She had an idea of what she wanted to do and I trusted her so let her go for it! I didn't check it once until it was finished. I absolutely loved it! I never wear false eyelashes but I can see why girls do now, they really do look massive and lovely. The lipstick Roxy chose I would not normally go that dark but I really think it suited me, a dark plum colour. I think it actually makes my blue eyes stand out a bit more as everything is so dark. The contouring was to die for and her highlighter was so shimmery it was amazing. My eyebrows were darker than normal but I think it looks good with the whole darkness overall. The eyeshadow was much more complicated than anything I have ever done. So I was very pleased indeed - I really didn't want to have to wash it off at the end of the day!
About Roxy T Make-up Artist
Roxy has been doing freelance makeup for 18 years. She's based in Watford but can travel. As mentioned she is a lovely girl and very non-judgemental. So if you're another Mistress/Dominatrix or even a transgender or transexual girl that would love a complete makeover then get in touch with Roxy. Not only can she offer to do all of your make-up for you, but you can also opt for makeup tutorial classes so she'll be able to teach you how to do your own make-up and you'll be able to get stunning results at home yourself. She'll also recommend products for you, as I well know myself, make-up is a minefield! I can't wait for her to do my make-up again.
Roxy's contact details:
You can get in contact with Roxy either by her Instagram account or by email: roxy.t@hotmail.co.uk
---