If you are looking to visit a CBT & Ballbusting Mistress in Hertfordshire or to watch ballbusting videos, then look no further. Ballbusting is an all-time favourite punishment of mine and it's made me one of the best busters in the UK.
Please note: As a CBT & Ballbusting Mistress I offer all types of punishments, see my mistress sessions page for my full list.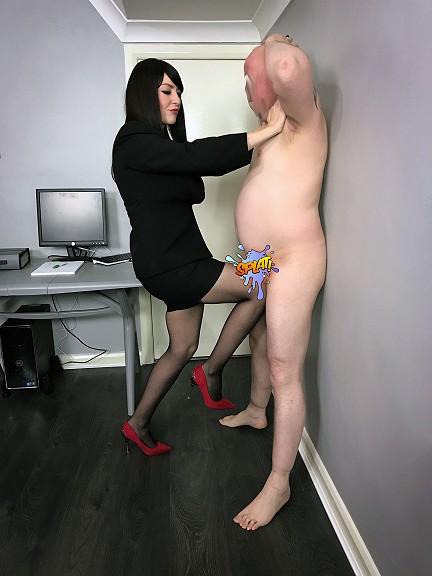 The ultimate pleasure vs pain
I have been punishing cocks and balls in the UK for some time now and I always want more ballbusting slaves, they're just too much fun. It's so entertaining to watch a slave fall down or do a little dance as his poor fragile manhood has been abused! It's one of the ultimate pain versus pleasure so if you want to give it a go or even if you just want to watch some CBT & ballbusting videos, read on.
Click on the links below to jump to the section you're interested in:
Ballbusting fun
As a ballbusting mistress, I love kicking balls, punching balls, slapping balls, twisting balls, kneeing balls and grabbing balls with my hands and squeezing tight. I enjoy crushing balls between my feet, one foot underneath and the other squashing down from the top. Ah too many things you can do! What choices! I adore watching my victims squirm as I dig my viciously high heels into their balls, or crush down on them with the sole. I have my own ballbusting "game", which is a pack of cards each featuring an individual punishment. It's up to fate to decide on how lucky you'll be (or not). Drawing a card from a normal deck then decides the quantity of your punishment. So you could get a King and get 13 kicks to the balls. Or, why not try something new? I play out a very enjoyable scenario whilst wearing boxing gloves. I'll have you tied securely to a chair, legs splayed and will then set about pummelling your balls into submission.
CBT punishments (Cock & Ball Torture)
When it comes to being a CBT Mistress, I have various intimidating devices and implements such as: spiked metal pinwheels, an assortment of different sizes of pegs/clips, a humbler, mini whips, a plastic ball crusher, weights/parachute, small paddles, rope to tie around your balls to make them purple and sore and also I have a trample box I can put you in to stomp down on cock and balls. You can always try my cock and ball pillory too. This pulls your crushed balls up between two flat plates, forcing you to stand on tiptoe. If you foolishly drop down your balls soon persuade you what a bad idea it was to be so pathetic!
CBT & ballbusting mistress videos
If you want to see me in action, either before coming for a session or simply because you love seeing British CBT & ballbusting mistress videos, then check out some of my many CBT & ballbusting mistress videos on my member's site. You can also buy individual CBT & ballbusting mistress clips on my Clips4Sales store. If you watch a video you'll get much more of an idea of what to expect in a CBT & ballbusting mistress session with me. You can also see the different types of roleplay scenarios I love to act out as well as the different outfits I own. If you're too far away from me to receive a knee in the balls or have pegs placed around your cock and balls in real-life then this will be the next best thing!
Book your CBT & ballbusting mistress session
Sessions are normally held in Watford, Hertfordshire but I do also have regular tour dates elsewhere in the UK. Please see my mistress sessions page for details. You can contact me directly by filling in my contact form for a CBT or ballbusting mistress session. Tell me all about what you want in your CBT or ballbusting mistress session: whether you want any roleplay, any particular outfits you might like to see me in and anything else in your CBT or ballbusting mistress fantasy.