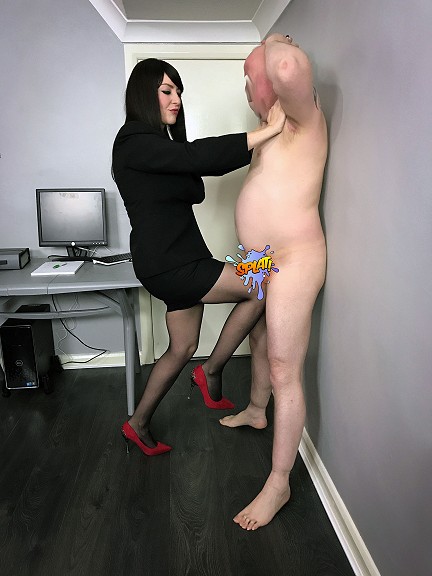 I love kicking balls, punching balls, slapping balls, twisting balls, kneeing balls and grabbing balls with my hands and squeezing tight. I enjoy crushing balls between my feet, one foot underneath and the other squashing down from the top.
I adore watching my victims squirm as I dig my viciously high heels into their balls, or crush down on them with the sole. I have my own ballbusting "game", which is a deck of cards each featuring an individual punishment. It's up to fate to decide on how lucky you'll be (or not). Drawing a card from a normal deck then decides the quantity of your punishment.
When it comes to CBT (Cock & Ball Torture), I have various intimidating pinwheels, an assortment of different size and strength pegs, a humbler, mini whips, small paddles and also rope to tie around your balls to make them purple and sore.
Don't forget, you can always try my cock and ball pillory. This pulls your crushed balls up between two flat plates, forcing you to stand on tip toe. If you foolishly drop down your balls soon persuade you what a bad idea it was to be so pathetic! Or, why not try something new? I play out a very enjoyable scenario whilst wearing boxing gloves! I'll have you tied securely to a chair, legs splayed with a spreader bar and will then set about pummelling your balls into submission!
Check out some of my many ballbusting & CBT videos, or book a ballbusting or CBT session with me.
Sessions are normally held in Watford, Hertfordshire but I do also have regular tour dates. Please see my mistress sessions page for details.