If you are looking to visit a Trampling Mistress in Hertfordshire or to watch trampling mistress videos, then look no further. There is nothing like feeling bodies wriggle and writhe under my feet whilst I trample them and I am a massive fan of doing so.
Please note: As a Trampling Mistress I offer all types of punishments, see my mistress sessions page for my full list.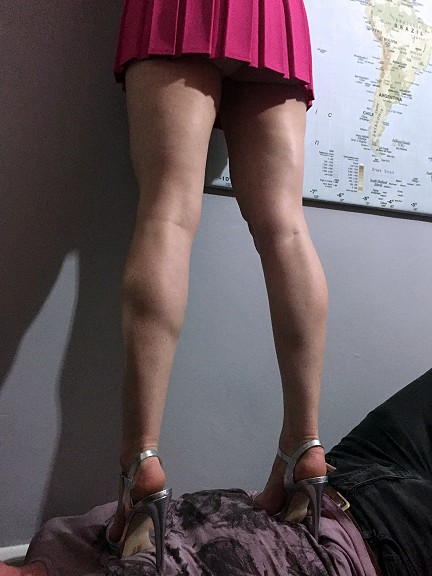 Femdom trampling
I have been trampling all over men in sessions for years. All body parts - trampling heads, back, bottom, chest and of course, cocks and balls. I have even been known to jump off chairs and land on slaves (if they can take it). So if you want to give it a go or even if you just want to watch some trampling videos, read on.
Click on the links below to jump to the section you're interested in:
Bare feet trampling
I love bare feet trampling. It provides so much better grip on slaves bodies when you can have nothing on your feet. Head trampling is done the best with bare feet as they cling to every surface and mould in place. Trampling on bodies bare foot gives greater stability as well which means you can stay in position and walk around, up and down a naked body, far more easily. You can also tell just exactly how much pressure you are putting on some cock and balls.
Shoes and boots for trampling men in
I have so many shoes and boots for you to choose from. My entire shoe collection is on display in my room (although I am running out of space due to my severe shoe fetish). My shoe range includes flat shoes like sandals, plimsolls, office shoes, ballet pumps or trainers. I have a massive collection of stiletto heels in nearly every colour. I also have platform or non platform shoes as well. Finally I have a vast number of knee high and thigh high boots to trample you in. Oh and I also have authentic riding boots and Hunter wellies.
Trampling mistress videos
If you want to see me in action, either before coming for a session or simply because you love seeing British trampling mistress videos, then check out some trampling mistress videos on my member's site. You can also buy individual trampling mistress clips on my Amateur Clips4Sales store. If you watch a video you'll get much more of an idea of what to expect in a trampling mistress session with me. You can also see the different types of roleplay scenarios I love to act out as well as the different outfits I own. If you're too far away from me to be trampled under my sharp stiletto heels or my soft warm feet in real-life then this will be the next best thing!
Book your trampling mistress session
Sessions are normally held in Watford, Hertfordshire but I do also have regular tour dates elsewhere in the UK. Please see my mistress sessions page for details. You can contact me directly by filling in my contact form for a trampling mistress session. Tell me all about what you want in your trampling mistress session: whether you want any roleplay, any particular outfits you might like to see me in and anything else in your trampling mistress fantasy.