If you are looking to visit a SPH Mistress in Hertfordshire then look no further. I love small penis humiliation. It is such an amusing way to verbally humiliate a slave. Even if you have a big dick it will never be big enough for me!
Please note: As a SPH Mistress I offer all types of punishments, see my mistress sessions page for my full list.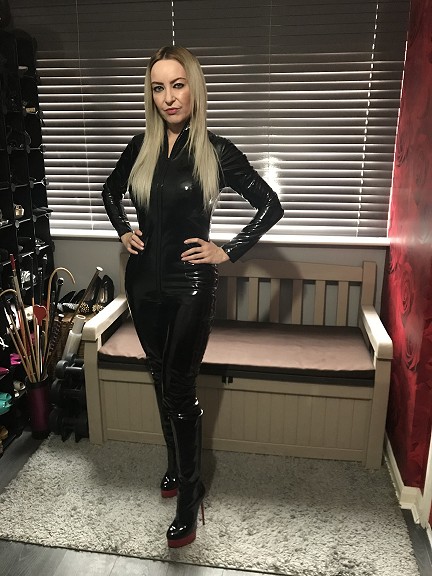 Small penis humiliation
I have been verbally humiliating slaves for their small dicks for as long as I can remember. As I don't have one it's particularly entertaining to crush a slave with verbal chastisement over the thing that's so precious to him. Nothing will make you feel more inadequate and worthless than hearing how pitiful your penis is. So if you want to give it a go read on.
Click on the links below to jump to the section you're interested in:
Small penis fetish
There is a good reason why having a small penis fetish can be tantalising. There can be immense sexual pleasure in being told that your penis is inadequate, and will never satisfy me and feeling humiliated and worthless. This is what it's more about actually. As I've had clients with large and small dicks come to me with the desire for small penis humiliation. It's more about humiliating and judging a slave on his ability to please a woman. Don't get me wrong, I have had some truly small micro penis visit me for small penis fetish but this is not usually the case. Do you want to feel awkward, humiliated and embarrassed? I can make whatever you have in your trouser department feel utterly useless and pathetic. I could be a nurse in the local STD clinic or sperm donation bank and make comments about your penis in a more realistic roleplay for your small penis fetish or I can simply by your mistress who is shocked by the size of your small penis and how will that ever make me happy? It won't! I can even lock up that pathetic little dick in a chastity device where you will feel totally trapped and emasculated.
Small dick humiliation
I love to tell you how small your cock is and remind you just how it will never, ever satisfy me. I'll have to get a truly huge stud cock to come and service me instead as your little shrimp cock just can't compete. Maybe I'll get out my tweezers out to pull your small dick around with or get a ruler to measure it up against. Are you going to cry as you're so full of shame with that inadequate small penis? You wish you had a large alpha dick to satisfy me with but that's just not going to happen is it loser! Why don't you even smack yourselves in the balls for having such a small dick? I bet with that tiny little penis you'd suffer from premature ejaculation as getting it in anything would be an achievement! I will mock you for having a pencil dick, not tiny really, but skinny and inadequate or whatever it looks like. Shall we try and see how much bigger it can get? Is that it?! Ha ha ha... so much fun to be had with small dick humiliation.
Book your SPH mistress session
Sessions are normally held in Watford, Hertfordshire but I do also have regular tour dates elsewhere in the UK. Please see my mistress sessions page for details. You can contact me directly by filling in my contact form for a SPH mistress session. Tell me all about what you want in your small penis humiliation mistress session: whether you want any roleplay, any particular outfits you might like to see me in and anything else in your SPH mistress fantasy.