If you are looking to visit a slipper spanking Mistress in Hertfordshire or to watch slipper spanking videos, then look no further. I have quite an extensive and varied collection of slippers, and I love how I can wear them around the house ready to deliver an instant spanking should the need arise!
Please note: As a Spanking Mistress I offer all types of corporal punishment as well as slipper spanking.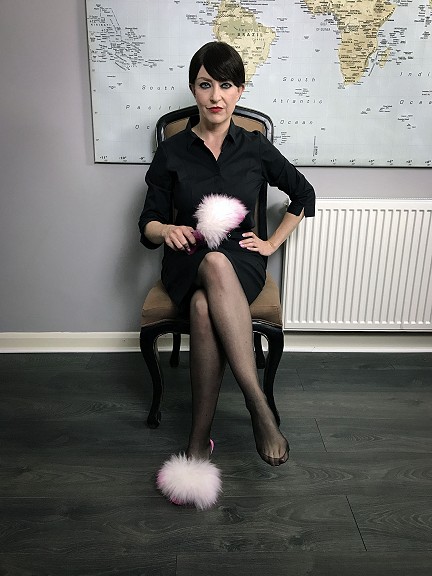 Slipper spanking bottoms since 2002
I have been slipper spanking slaves since I first started out as a Mistress. Corporal punishment is my first love and not everyone can take harder implements like caning so a slipper spanking is ideal for those new to the scene or have a low pain threshold.
Click on the links below to jump to the section you're interested in:
Over the knee (OTK) slipper spanking
I especially like getting reprobates over my knee, with their trousers down and spanking them with my slipper for a lesson they won't forget. Many are surprised just how sore a slipper can be. Slippers are quite useful as they are everyday objects found around the house, so serve well as a realistic spanking implement. As well as over the knee punishments, slaves are bent over my school desk or strapped down to my whipping bench to receive slipper spankings. My rubber-soled slippers are my favourites for a nasty sting, and what a lovely noise they make when they land on a naughty bottom! I also have synthetic soled slippers for a less harsh feel. Apart from slippers, I have school gym plimsolls, flip-flops and sandals to spank bottoms with. In fact, I have something for every naughty behind!
Common slipper spanking scenarios
I get asked to do slipper spanking in lots of different sessions but the most common are school discipline, where I am the Headmistress or Office Boss. I love playing both these roles and they lend themselves very well to slipper spanking. With a naughty schoolboy over my knee for cheating in an exam or playing truant, or a bad employee who is rude to other staff members or keeps stealing my car parking space, they all get what they deserve in the form of a thorough slipper spanking as physical punishments are much more adhered to than simply a verbal chastisement.
Slipper spanking videos
If you want to see me in action, either before coming for a session or simply because you love seeing slipper spanking videos, then check out some of my many slipper spanking videos on my member's site. You can also buy individual slipper spanking clips on my Clips4Sales store. If you watch a video you'll get much more of an idea of what to expect in a spanking session with me. You can also see the different types of roleplay scenarios I love to act out as well as the different kinds of outfits I own. If you're too far away from me to receive a slipper spanking in real-life then this will be the next best thing!
Book your slipper spanking session
Sessions are normally held in Watford, Hertfordshire but I do also have regular tour dates elsewhere in the UK. Please see my mistress sessions page for details. You can contact me directly by filling in my contact form for a slipper spanking session. Tell me all about what you want in your slipper spanking session: whether you want any roleplay, any particular outfits you might like to see me in and anything else in your slipper spanking fantasy.