If you are looking to visit a Foot Worship Mistress in Hertfordshire or to watch foot worship videos, then look no further. Foot worship is one of my favourite pastimes, and I love attention being lavished on my feet!
Please note: As a Foot Worship Mistress I offer all types of punishments, see my mistress sessions page for my full list.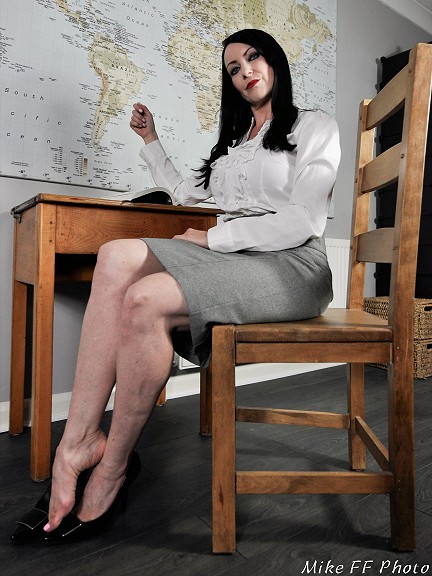 Worship my feet!
I love all foot fetish activities and in a session with my feet, they will dominate and play with you. So if you want to give it a go or even if you just want to watch some foot worship videos, read on.
Click on the links below to jump to the section you're interested in:
Foot fetish
Do you really love feet? What do you love about them? Do you have a foot fetish where you want to kiss and lick feet? Or are you more into being dominated by feet and used like a doormat? Is that more your kind of foot fetish? Either option is fine with me as I love foot fetish sessions. You can kiss my feet, suck on my toes, or lick my feet all over. I can lower all of my toes and top of my foot into your mouth all at once too. I could also just rub them all over your face and I'm sure that it they'll make an excellent rest for my feet. Then if you're any good at foot massages I'll definitely appreciate it, and trust me, you'll soon know about it if you're not.
About my feet
I have UK size 4 (Euro 37/USA 6) size feet which I look after. I have a foot fetish of my own and that is that I always have my toe-nails painted in a gorgeous colour, but you'll just have to wait until you have a session to see my to find out what colour they are currently! I love wearing stockings and tights, so depending on what you desire, I can be stocking clad, or barefoot for your session. Please let me know your preference at the time of booking. If your foot fetish is smelly feet then I can't really help you as I don't get very sweaty feet, but I can even save a pair of used sweaty gym socks to rub over your face.
Foot worship mistress videos
If you want to see me in action, either before coming for a session or simply because you love seeing British foot worship mistress videos, then check out some of my many foot worship mistress videos on my member's site. You can also buy individual foot worship mistress clips on my Amateur Clips4Sales store. If you watch a video you'll get much more of an idea of what to expect in a foot fetish mistress session with me. You can also see the different types of roleplay scenarios I love to act out as well as the different outfits I own. If you're too far away from me to kiss my dainty feet or give them a massage in real-life then this will be the next best thing!
Book your foot worship mistress session
Sessions are normally held in Watford, Hertfordshire but I do also have regular tour dates elsewhere in the UK. Please see my mistress sessions page for details. You can contact me directly by filling in my contact form for a foot worship mistress session. Tell me all about what you want in your foot worship mistress session: whether you want any roleplay, any particular outfits you might like to see me in and anything else in your foot fetish mistress fantasy.