If you are looking to visit a Caning Mistress in Hertfordshire or to watch caning mistress videos, then look no further. Caning is by far my favourite way to punish naughty bottoms, and over the years I have become exceptionally good at it, and can make your bottom very stripey indeed!
Please note: As a Caning Mistress I offer all types of corporal punishment as well as caning.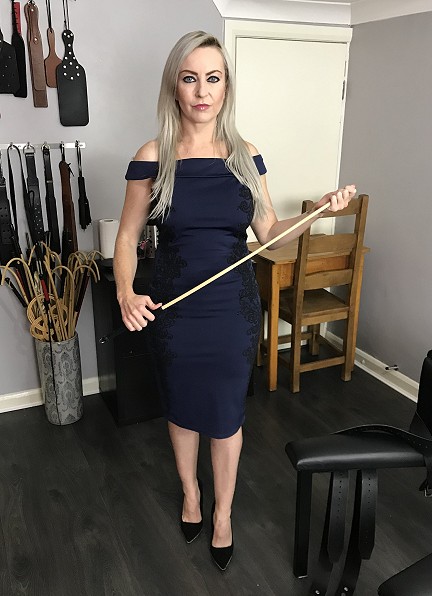 Caning bottoms since 2002
I have been using canes since I first started out as a Mistress. Corporal punishment is my first love. Canes can be for people of all levels, as you can have some lighter playful strokes or if you want to try something harder, then severe skin striping strokes.
Click on the links below to jump to the section you're interested in:
My cane collection
I have some fantastic canes - a whole umbrella stand of them (which you can see in the above right-hand side photo). I have lots of hook handled and straight canes in a variety of diameters. Thin whippy dragon canes to thick heavy dragon smoked canes. For lighter caning, I tend to favour the thinner canes as they have a real sting to them. I also have a couple of OTK (over the knee) small canes made especially for the job, which do build up nicely on the bottom. For heavier caning, I prefer thicker canes as it takes longer for the skin to break. Not that broken bottoms stop me, plasters are on stand by to ensure your bottom is fully caned. My favourite cane is one that I get made for me - 30 inches long with a lambskin handle and about 8mm diameter, made of dragon cane. My canes last varying lengths in my hands and it's always sad to see a cane break, they are my most replaced corporal punishment implement as I do like to cane very hard, given the chance!
Strict Headmistress
One of my most popular caning sessions is to be a strict Headmistress which I find so enjoyable in sessions. I love telling off naughty pupils for their behaviour and in between punishments sending them to the corner with their hands on their heads or getting them to write some lines. Then finally using my cane to give six of the best (or usually a lot more), and hearing it swish through the air before landing a blow on a bottom always fills me with glee. The cane was such a traditional school punishment for naughty boys and today it lives on in my sessions. Role-play is a speciality of mine so you can act out your strict Headmistress fantasy with me.
Judicial caning mistress
Another popular caning session is a judicial caning scenario. I offer to those that wish to play along, hard judicial caning mistress sessions of up to 200 strokes in a session. Once you have agreed to go ahead then no amount of crying or begging will make me stop until all of the strokes are on your bottom. The usual amount that people go for is 50. You can choose to be totally strapped down on my whipping bench, so you'll be unable to move until the judicial caning is over. No safe words, no escape. Role-play can be added in, for example, Policewoman, Army, WAAF, Prison Officer or anything else you'd like to try.
Caning mistress videos
If you want to see me in action, either before coming for a session or simply because you love seeing caning mistress videos, then check out some of my many caning mistress videos on my member's site. You can also buy individual caning mistress clips on my Clips4Sales store. If you watch a video you'll get much more of an idea of what to expect in a caning mistress session with me. You can also see the different types of roleplay scenarios I love to act out as well as the different kinds of outfits I own. If you're too far away from me to receive a caning in real-life then this will be the next best thing!
Book your mistress session
Sessions are normally held in Watford, Hertfordshire but I do also have regular tour dates elsewhere in the UK. Please see my mistress sessions page for details. You can contact me directly by filling in my contact form for a caning mistress session. Tell me all about what you want in your caning session: whether you want any roleplay, any particular outfits you might like to see me in and anything else in your caning mistress fantasy.